(Original posting by shopaholic mama on her personal blog http://shoppingismymiddlename.wordpress.com)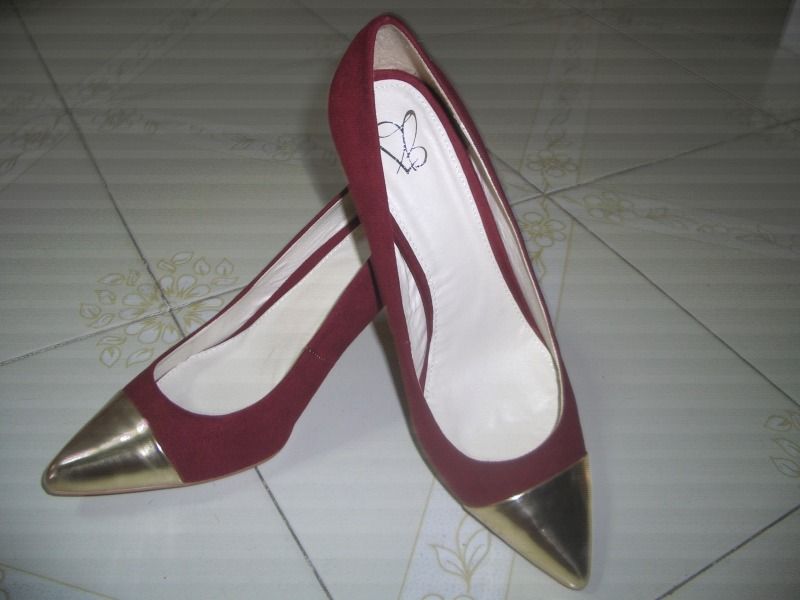 Wine is absolutely gorgeous!!!! More liked burgundy; a classy color
Was deciding between black & wine. The reason why I cart out wine is because of the outstanding color. Black is a bit blah for me :X
Its made of suede material so have to be careful not to step on puddles.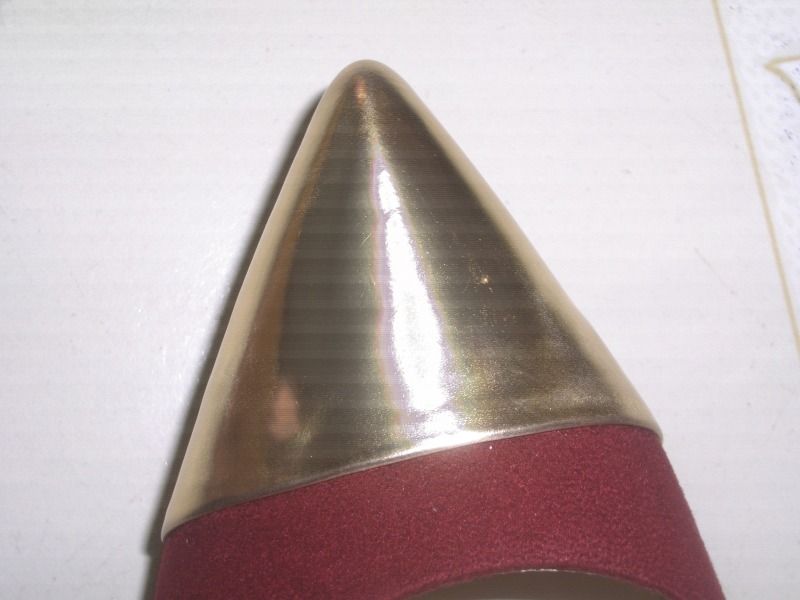 Am I the only one who is glad that the cap toes are patent material instead of metal? Metal cap toes are so stiff & painful to walk in
The height of the heels are not very high. More liked a kitten heels. A good news for people liked me who want to add inches to their heights without the need to struggle in suicide heels LOL
~~~~~~~~~~~~~~~~~~~~~~~~~
(Original posting by Maxine on her personal blog http://presentsfromthemailbox.blogspot.sg) Go to her blog for more gorgeous photos :)
Topped up for reg mail, so I received it pretty quickly! Couldn't wait to try it on once I got it! Hehe, the wine colour is exactly the same as the Fanning Flats' and so is the muted gold cap. The only diff is that this is heeled! 3" to be exact, as said on the LB site.
The measurements were 0.25" bigger than the flats so I just decided to stick with the same size, 38. Usually people would size up for heels right? But these are already longer/bigger, so the same size would do! Actually I think it's a little too big for me? But not too big that my foot would come out when walking. (Honestly, I don't know. I have to actually wear them out.)
No problem even if it is a little too big. One can always head down to Watsons/Guardian and look for a heel grip, to put inside the shoe at the back. That would make the shoe fit better!
Hehe, red & gold. Really gorgeous. I have a friend who says this reminds him of the Thai dancers' nails, yknow those long gold ones they put on when they perform? AH HECK, I love my gold capped heels.
Please don't ask me how comfy they are! Seeing as how they're heeled, and pointed in front. I don't think any person with normal nerve functions would be able to walk the entire day in them. Or half a day, for that matter. (At least I can't. If you can, good for you!)
~~~~~~~~~~~~~~~~~~~~~~~~~~~~~
(Original posting by pinkstars on
http://bestofshopping.livejournal.com
)
Hope my post will help those who are indecisive of joining the BO for the Hillary Heels.
Size fits exact as to Pedro Sizing. :)
Made of suede material and the heels is padded.
Haven really walked around in the heels, but its really quite nicely done. perfect height to walk ard with. :)